Helena
1. I am a fashion addict. I am finishing my bachelor degree in fashion design at the university.
2. My favourite spot in Prague is "Náplavka" (the river bank), where I spend all of my free time in summer. I love the views, live music, people of all nationalities and good beer or wine with the sunset, upon the Vltava river
3. To my other passions surely belongs traveling, I have travelled a lot around the world and just to name few favourite cities- Tokyo, New York, Milano, Cannes..
4. I also enjoy spending days in museums and going through new cities and exploring its history and architecture.
5. I love to watch independent films and reading good books. My favourite genre is Mystery/Psychological.
6. Outrageously beautiful flowers are undoubtedly my favourite Peonies.
7. The food, which I could eat all days long, is definitely sushi, which I like to prepare by myself.
8. I also enjoy sports such as skiing in Austrian mountains, tennis and ballet.
1
2
3
4
5
6
7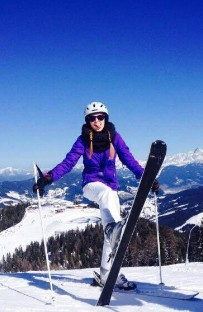 8
Connect

>

contact us
EMAIL US

hello@pragueweddingagency.com
Prague office

00 420 608 012 118
London office

00 44 7825 351 698